These past few months have been an exciting and hectic time at our OffTerrain.com headquarters and warehouse in Portland, OR.
As you can probably imagine, launching a new brand is no small feat. Each of our team members here at Off Terrain have done yeoman's work in helping us get to this point and so we are very much grateful to each one of them for all of their hard work and dedication.
#SEMA2019 Show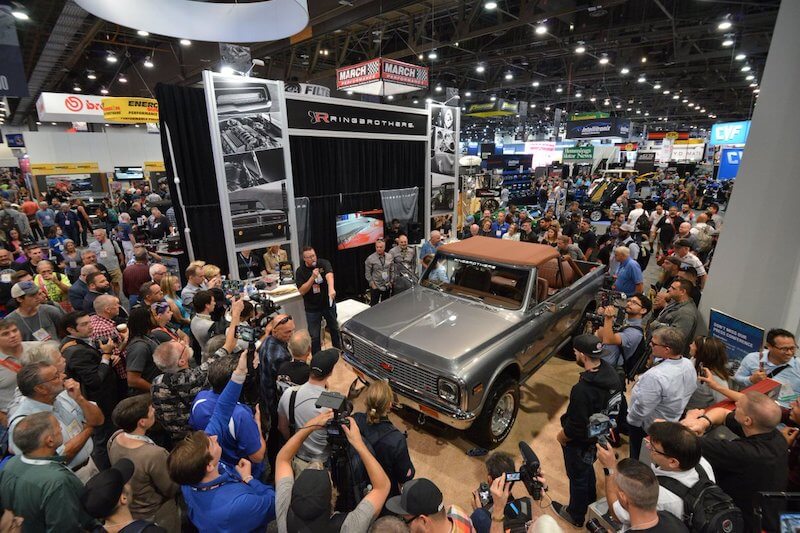 We are also excited to announce that your favorite new Off Road, Overlanding, & 4WD vehicle gear company, Off Terrain is officially debuting and introducing our new OffTerrain.com brand to the world this week in Las Vegas, NV at the world-renowned SEMA show. A bit more on that below.
Who is Off Terrain?
No one wants to get "stuck" in an out of the way place. As anyone who has been caught before can tell you, help can often be tens or hundreds of miles away. Cell phone service can often be a challenge and is often spotty at best and weather conditions can quickly turn dangerous.
Having high quality, durable, Off Terrain vehicle recovery gear which enables a 4WD driver to safely perform a self-recovery operation is not optional. It's necessary and becomes a necessity for most responsible vehicle owners.
Proudly based in Portland, Oregon, OffTerrain is a company that fills a very unique niche inside of the Offroad, Overlanding, Truck, Jeep, & 4WD space.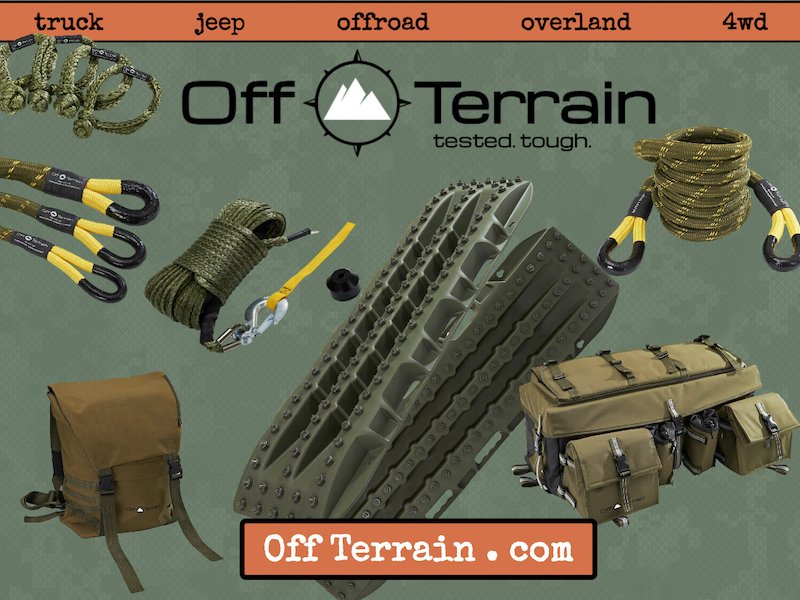 OffTerrain is a manufacturer of rugged, innovative, overbuilt, vehicle-centric recovery, storage, & outdoor gear. Off Terrain's high quality, vehicle recovery gear and product line has been specifically engineered and designed to meet the needs & demands of the growing overlanding, offroading, jeep, truck, & 4WD enthusiast community.
We like to say that our products are designed for the "outdoor adventure enthusiast" crowd. Off Terrain products appeal to those who love and appreciate Offroading. We appeal to those who are passionate about Overlanding. We also appeal to truck lovers, jeep fanatics and 4WD enthusiasts.
Off Terrain's innovative new Kinetic Recovery Ropes, Traction Boards, Soft Shackles, Synthetic Winch Rope, Durable Off Road Bags, Off Terrain Electric Vehicle Winches, or soon to be released Roof Top Tents, are each carefully designed & tested for durability and function. They have to be considering the amount of abuse that they are subjected to when going Off Road & on Overland adventures. When considering the rigors of their intended usage, Off Terrain products must be engineered & designed to take a wicked beating and hold up to years of abuse.
In addition, Off Terrain stands behind each and every one of our products and provides each one with a warranty.
OffTerrain provides 4WD solutions
What people often forget is that the OffTerrain line of products has also been developed for almost anyone who owns a 4WD vehicle. These are the people out there who are passionate about using their 4WD vehicle to explore the land and get out into new and exciting backcountry destinations and other out of the way places that can often be a challenge to navigate or get into. This is mainly due to treacherous & variable road and off road conditions, which are constantly changing due to natural, seasonal and weather related changes.
These folks need real world, 4WD vehicle-centric, OffTerrain gear solutions in order to be able to access these out of the way spots safely. This way, they can safely enjoy their outdoor activities such as: camping, hiking, biking, kayaking, hunting, fishing, fly fishing, kayak fishing, skiing, climbing, trail running, photography, and exploring the wilderness (in general) to name a few.
Off Terrain is excited to provide 4WD vehicle recovery & safety solutions for them. OffTerrain.com makes the durable and rugged vehicle recovery gear that their pick-up trucks, SUV's, Jeeps, & 4WD vehicles require to safely access these out of the way places.
What is the SEMA Show, you ask?
For those that might not be familiar with the SEMA show, the SEMA organization got its start in 1963 and was originally known as the Speed Equipment Manufacturing Association. (is that a mouthful, or what?)
In 1970, due to government regulations, they changed the words behind the SEMA acronym to: Speciality Equipment Market Association to better reflect the nature of the growing organization.
Either way, it's a big deal. Like a really, really big deal – especially for auto industry media/enthusiasts, aftermarket product vendors, & OEM suppliers, etc. Also important to note is that the overland & off road segment of the SEMA show has grown exponentially over these past few years. This is exactly why the crew here at Off Terrain is so amped to be part of this fantastic show.
The show has grown so big in fact, that the SEMA show is now one of the largest single annual trade shows in Las Vegas each year. Pretty cool indeed.
Alpine Electronics
Off Terrain is also extremely honored and excited to be featured in part with one of the world's greatest electronics companies, Alpine Electronics. For over 50 years, Alpine Electronics has been a trusted manufacturer of premium, high-end, automotive sound systems known for their incredibly rich detail and superb sound.
If that wasn't enough, Alpine will be featuring their All-New Jeep Wrangler with direct-fit Alpine Restyle dash and sound system upgrade. It might also even be outfitted with a few surprise offerings from Off Terrain as well. (wink, wink) So make sure to bring your dancing shoes if you are attending.
The Alpine Electronics Jeep, outfitted in the iconic Alpine "blue and white" color scheme will be sure to get people's attention and get the party started right. And if that doesn't do it – the absolutely incredibly detailed, full-featured (and bumpin') sound system from Alpine, likely will do the trick.
Who knows? – Maybe if we are lucky, we might even see a "dance-off" or two break out right on the floor of the show? haha… I kid, I kid – but hey, you never know?
Exciting Times Ahead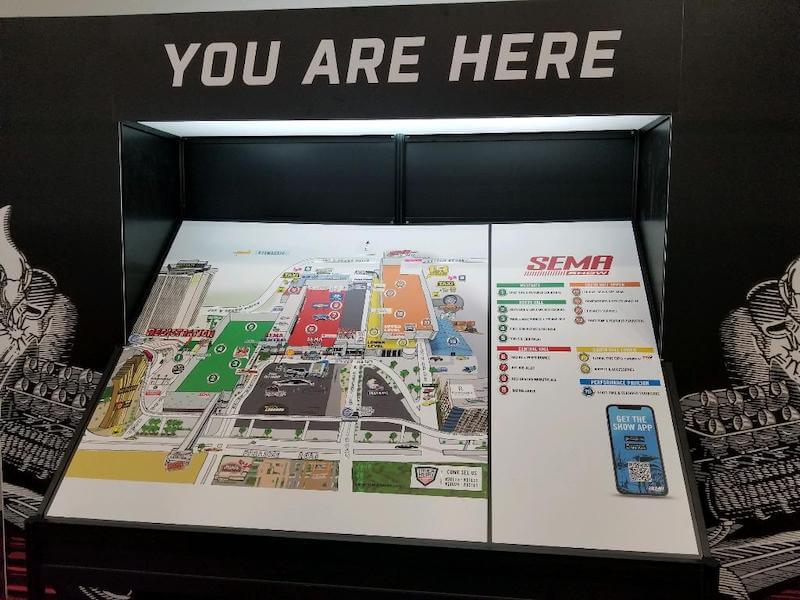 To say that our staff here at the Off Terrain headquarters is excited to be a part of the SEMA show this year would be an understatement. We are really proud of what we've accomplished over the past year or two and now we look forward to share some of our work with the rest of the world.
If you are going to be at the show, please make sure to stop by to say Hi! The team here at Off Terrain would love to meet you guys and gals and might even have a few goodies up our sleeves? We'll be at booth #37215 just in case you need to take a quick screenshot as a reminder.
We'll be sure to update as the week goes on – so be sure to check back with us and please make sure you are following us on our social media channels at the bottom of this page! (we follow back)
#SEMA2019 – Here we come! Off Terrain has finally arrived! We can't wait!!!
Team – Off Terrain